Main Content
Posted 2022-06-10 10:00:15 (

edited

)
We have some new updates to bring you today!
Inbreeding Coefficient (COI)
We have now added an inbreeding coefficient to each wolf on their family page. The coefficient of inbreeding (COI) is calculated by comparing the father and mother's family trees against each other. If wolves that appear in the father's tree also appear in the mother's tree, then a rate of COI is present for the offspring. This is calculated by how far back in the generations each common ancestor is in both trees, and additionally by that ancestor's COI as well. COI is calculated up to as much as the family tree displays on one page.
However, if you breed a wolf with any number of COI to a completely unrelated wolf, even if that wolf itself also has a COI, the offspring will be born with a rate of 0% COI, despite having instances of inbreeding on the father's tree, and then separately on the mother's tree. This is because the parents are completely unrelated from each other, despite having a level of inbreeding themselves. This does mean that a new wolf breeding partner can completely freshen up the gene pool.
As a rough guide:
- 25% COI is equivalent to a parent x offspring breeding, or full sibling
- 12.5% COI is equivalent to a half-sibling pairing, or grandparent x grandchild breeding
- 6.25% COI is equivalent to a first cousins, or great grandparent x great grandchild breeding
- More than 25% would indicate there are multiple instances of inbreeding in the family tree, as it is cumulative as well
Instances of Inbreeding
In addition to the COI rate, we have added in a counter for 'instances of inbreeding'. This counts how many duplicate wolves can be found in the family tree.  These go back as far as the family trees will allow on one page, and count all instances that can be seen. These can also be seen on the family page of a wolf.
Generation Counter
Also on the family page, you can now see the generation number for a particular wolf. Broadly, all wolves without parents start out as 'Gen 1', meaning they are number 1 in the generation position.Their offspring will then become Gen 2, and their offspring become Gen 3, and so on. This has been calculated for all wolves currently and going forward. Unfortunately if some wolves have missing history in their family tree the generation counter may be smaller than the reality, but this should be accurate going forward.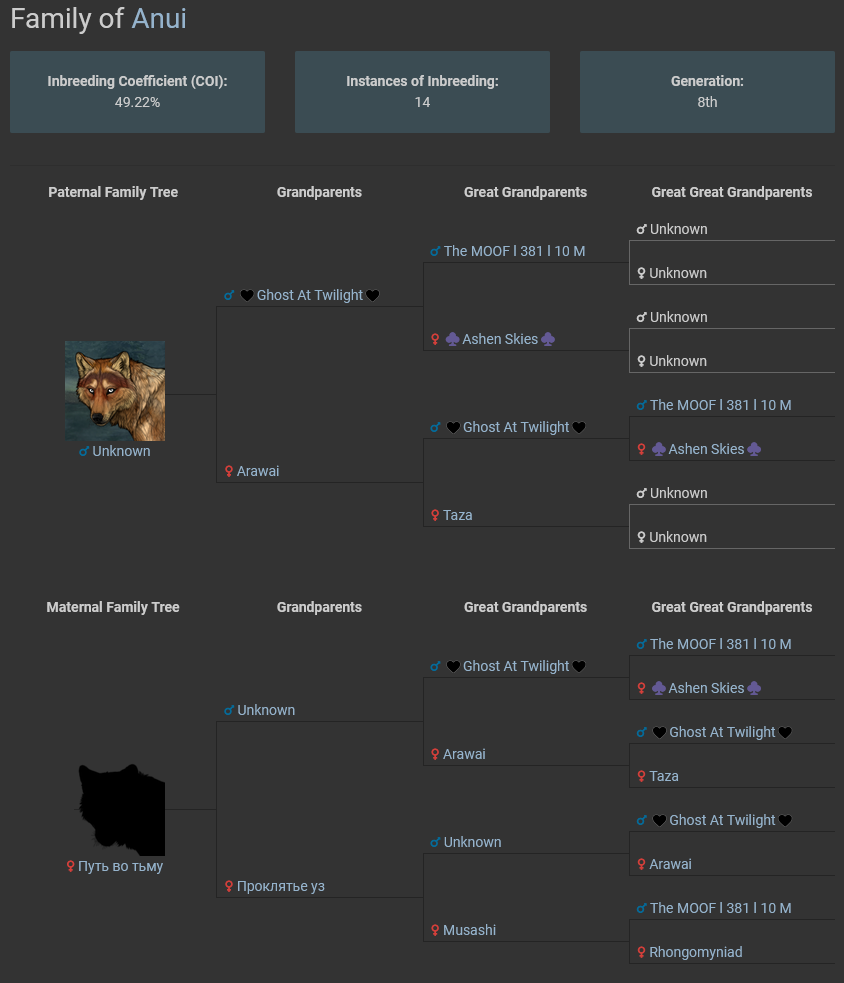 Visible Marking Tiers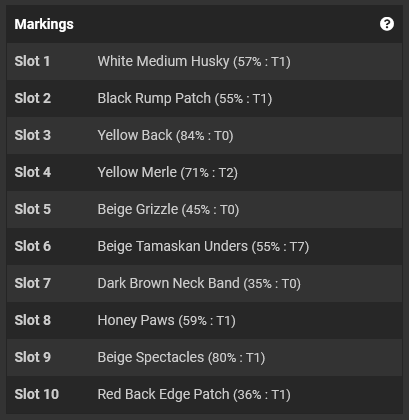 All wolves now show what tier the marking they have is listed under on their page. This can be seen under the 'Markings' table, beside marking opacity numbers, as a 'T' number. For example, Tier 1 would be denoted as T1.
Daily Stat 'Caps' Raised
All wolves can now earn double the amount of stats per day than they were able to previously. Before, wolves could earn a total of +2 stats per day through various work related tasks (hunting, scouting, etc), and this has now been lifted to +4 stats. We will continue to monitor this and make additional adjustments if required.
Increased Dynasty & Immortal Slots
You are now able to purchase extra dynasty and immortal slots. Dynasty slots have been raised to a maximum of 400 (from 200), and immortal slots have been raised to a maximum of 20 (from 10).
Scrying Age Limits
The age limit that was previously in place for scrying a breeding between two wolves has now been removed. You can now scry breedings between wolves of any age (including puppies for future potential breedings)!
Wishlists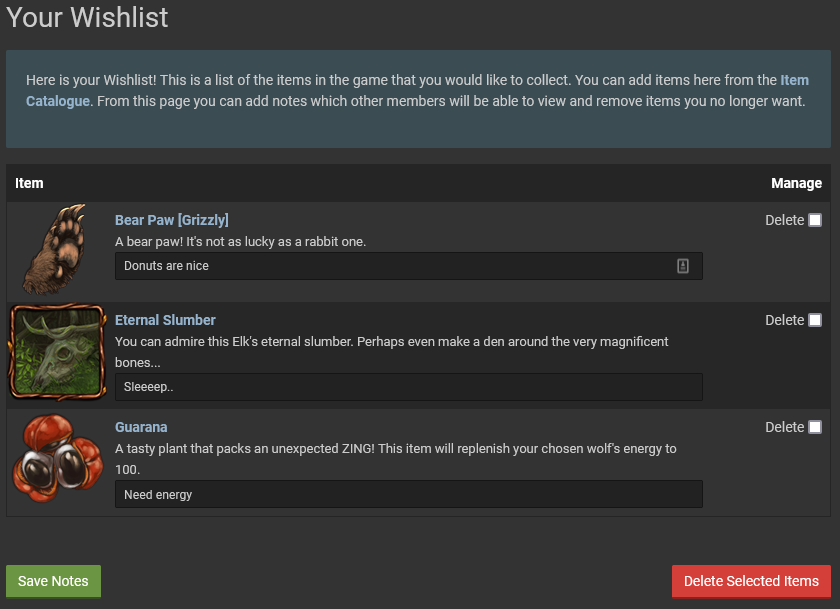 Wishlists have been added to the game, you can manage your own Wishlist from your Profile page, and you can add items to your Wishlist in the Item Catalog.  You can also view other members' Wishlists from their Profile page, along with an easy link to gift them anything that you might feel generous enough to give!
Retirement to Immortality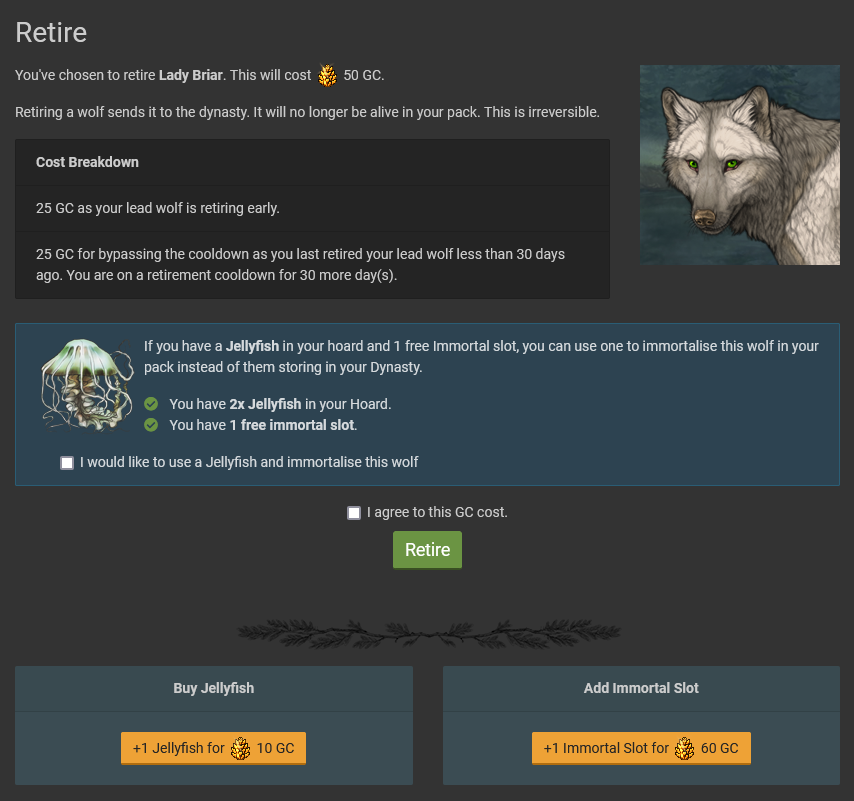 Lead wolves are now able to be immortalised when it is time for their retirement. Once on the retirement screen there is an option to use a Jellyfish on them, providing you have one in your hoard, and an extra immortality slot. And if you don't - there's also a mini shop on the page, enabling you to buy them!

Edit for Clarity: This is limited to early retirement only and will potentially be added to forced/natural retirement (once a lead wolf reaches 8 years) in a future update.
Raffle Pup Protection
Pups won in raffles will now be protected if the winner cannot access their account until the following rollover and would otherwise die from lack of protection.
Bonus Extras
- "Retreat" has been renamed to "Flee" in battles for clarity, as well as a confirmation prompt added.
- EXP gains have been boosted for hunting, foraging and herbalist roles to try to add better balance compared to the EXP gains for scouts.
Phew, that's a lot!
Official Wolvden Raffle!
Our latest weekly raffle is out!  Each person can purchase 1 ticket at maximum to have a chance at winning a neat prize for the amazing price of 5 SC per ticket!

Good luck!  You can find the official raffle here!
This raffle will automatically end on 2022-06-17 at 00:30.
Raffle Stud Winners and New Raffle Stud!
Congratulations to the players that won a breeding with last week's raffle stud!  You'll know if you won, as you'll have received a Game Notification in your inbox informing you of such!

As a reminder, the previous raffle stud's exclusive attribute was the Red Cougar marking!  Red Cougar is now able to be applied via Random Marking Applicators and Total Shuffles.  The combo marking Auburn Cougar has now been released as well!
Our newest weekly raffle stud has been released!  His special attributes are the Black Panda and White Lupos markings!  Enter for a chance to win a breeding with him by clicking here!
Poll Results!
Thank you all for voting on last week's poll!  Hopefully those of you who have yet to find the recipe will get lucky when battling Badgers soon!

For our new poll: Should there be passive HP regeneration on wolves throughout the day?  Please cast your vote by clicking here!
Bug Fix
* Bug fix confirmed for Clicked Auto-Friend Twice, Got Two Identical Wolves.
* Bug fix confirmed for Purple Eye Discharge/Sparks Not Appearing on Sentinel Variant.
* Bug fix confirmed for Enclave pup completely glitched.
* Bug fix confirmed for Cypress identifies as Rasputin.
* Bug fix confirmed for Hunting got stuck.
* Bug fix confirmed for Multiple hunts not working.
Looking For Artists!
We're looking to expand our team of artists to work on Lioden and Wolvden's complex and dynamic decors!  We are not looking for amateur artists, but we do not require a CV.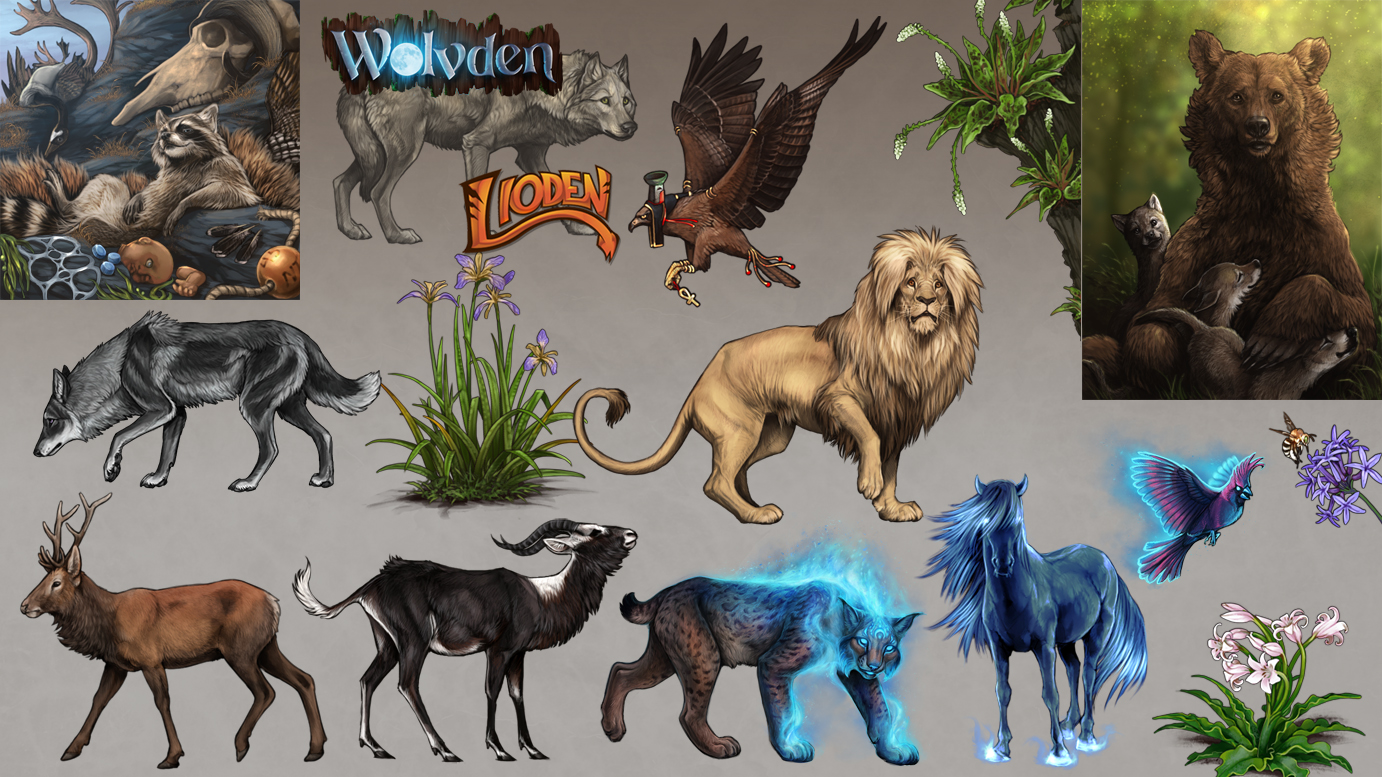 This position is paid and requires you to sign a contract, so we are only looking for people who meet the legal working age criteria within their country.
What We're Looking For
* The ability to match Lioden Ltd's official art style and anatomy requirements enough so that your artwork does not stand out from Lioden/Wolvden's typical artwork.
* The ability to consistently draw the same item for every age, gender, and stage of our lions/wolves.
* The ability to meet deadlines if given them (e.g. event items).
* The ability to stay in touch and communicate well.  If you have the tendency to disappear for days without giving a heads up in advance, this may not be the right position for you.
What This Position Brings
* Freelance position, paying monthly for artwork pieces listed in an invoice with a maximum quota which can grow as you stick around with the team.
* For event decors, you will be provided a list of ideas, be able to add your own ideas, and vote out ideas you would rather not do.  Event decors have deadlines.
* For non-event decor, you will be provided a list of decors that need to be done, but you will also have the full freedom of proposing your own ideas year-round, as well as the ability to do them at your own pace without deadlines.
* 99% freedom when it comes to concepts, posing, staging, colours, etc., unless something must be very specific—this will be stated.
* The ability to bring player suggestions for decors to life.
* The ability to talk with Xylax about any art ideas and improvements, except for the main lion/wolf artwork—this is handled fully by Xylax.
* After the training period, we do not require progress sketches for everything, unless you wish to to share.  We would like to see concept sketches to make sure ideas do not overlap, or that your concept fits in with the theme.  We also do not require your .PSD files.
* You will be required to keep in touch a lot.  If, for any reason, you will have any delays or go a long while without being online, you must let Xylax know in advance so that the team can organise planned content in time!
* If, for any reason, you must resign after taking on the position, we will give you our recommendation for future work.
Artist Tips
* Lioden does not use a solid black colour in any form.  Lineart, shading, etc. are expressed by colours such as #161313, #20160D, etc. to match the hot and dusty feeling of Africa.
* Wolvden, however, does use black for linearts and deep shadows.
* Lioden's linearts are not refined and thick.  They are more biological than stylised art - a bit like a pencil stroke.  Soft, happy little lines.
* We usually don't require decors to have separate linearts.  The main lion/wolf artwork has to have that for marking purposes.  Decors that require recolours, however, do require a separate lineart layer—for example, Lion Pride Accents, Snake Skin Bodywear, etc.  Other than that, you can treat decors as tiny paintings, as long as the art style matches Lioden/Wolvden's.  [LINK for Art Style Tips]
* Dynamic decors often need cutouts for lions/wolves to give depth.  Remember that male lion decors often need 22+ adapted mane shape cutouts.
* Reference, but do not copy, do not eyeball, do not trace.  You can open 60 lion photos and use them as angle/proportion/anatomy assistance, but do not make your artwork look exactly like the photo you used.  Frankensteining photos is also a no-go.  See the What is Tracing, Eyeballing, Referencing topic for more information.
* We like when decors compliment the lions/wolves, not obstruct them!
If you are confident in your ability to meet our expectations, communicate with us and the rest of the artists, etc., please email your artwork portfolio to xylax@lioden.com.  Your portfolio must contain the following:
* Lioden/Wolvden ID(s)
* Current city/country
* Current age
* Discord ID
* Name of art programs that you use
* (Optional) If you have ever created custom decors for Lioden/Wolvden, please include your ID and the name of the custom decors, even if you're just the artist and not the player that submitted the custom decor.
* (Optional) If you have ever sold artwork on Lioden/Wolvden, please include links to your art sale topics.
* (Optional) If you have an art gallery or online portfolio, please include a link.
If you are hired, any artwork that you create for us while working for Lioden/Wolvden becomes the intellectual property of Lioden Ltd.  Artwork that you create cannot be displayed within your personal galleries/work portfolios until the art is officially released on Lioden/Wolvden itself.
Posted 2022-06-10 10:00:51

yay newwwwsss!!!
𝗟𝗲𝘅 ✧
#48499


Posted 2022-06-10 10:01:41 (

edited

)

hahahahah neewws LMAO I just was freaking out about what happened to my wolves marking log

👑🐖NazgulWitchKing👑🐖
#61352


Posted 2022-06-10 10:03:48

WOO news!! These are some changes I was really hoping to see, this is awesomee!!

gostkity
#794


Posted 2022-06-10 10:06:07

GOOD UPDATE

🕸️Websteak🥩
#27549


Posted 2022-06-10 10:06:49

Being able to check inbreeding and generation at a glance makes so much sense! Thanks. Maybe long lineage wolves will feel a little less dejected, too.

Urban
#64287


Posted 2022-06-10 10:07:01

Thank you for the scry change!!! And everything else of course 😝

PsychoBunny
#38611