Main Content
Lunar Event #10! (November 19th-25th, 2021)
Lunar Event #10! (November 19th-25th, 2021)
Posted 2021-11-18 23:19:03
The Lunar Event Begins! November 19th, 00:00am WDT through November 25th, 11:59pm WDT
If you're new or you need a refresher on how the Lunar Event works, we recommend reading the Lunar Event announcement news post located here: LINK!


Now, we'll move to the part about the event updates! :D





New Shop Rewards and Wipes!
Just as we mentioned previously, the Moonlight set is now gone from the Lunar Shoppe.  It will return during one of the upcoming real life Lunar events that we will announce in advance.  For now, let's check out the new set: Turquoise!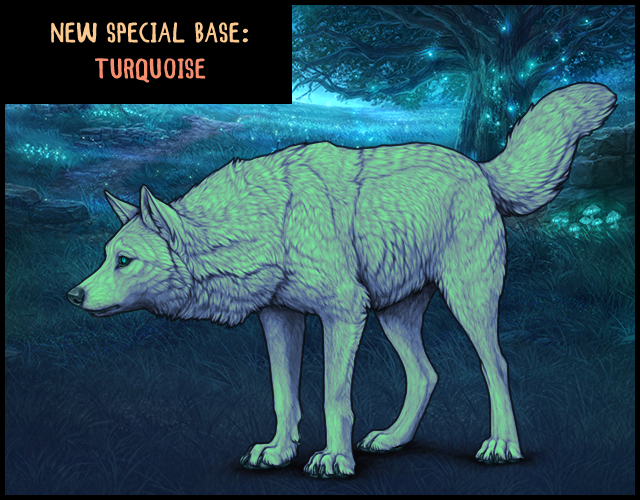 This event's new base is Turquoise!  It is a Light Special-tier base.  The applicator costs 500 LT.

The base comes with a matching set of Claws, Nose, and Skin: Verdigris.



This event's unique Lunar eye applicator is Bioluminescent Teal!  Bioluminescent Teal eyes can pass Bioluminescent Teal and will fail to Blue, Green, and Ice.

Notice: The base, marking, claws, nose, and skin applicators that are available this week will be retiring after January's Lunar event.  They will appear all at once during the next real life Lunar event of our choice.  The eye applicator retires this week, but it can also be found again in the Lunar Shoppe when a real life Lunar event occurs.  We will put out an announcement in advance when a real life Lunar event is approaching!
Heads Up: Real Life Lunar Event Soon!
The month of December has a real life Lunar event: a Total Solar Eclipse around the South Pole!  We'll be fully restocking the Lunar Shoppe for December's Lunar event, and we'll be adding in some South Pole Eclipse-themed Lunar content as ​well!

​ ​

Note: Due to the Lunar Shoppe restock in December, the accompanying Markings Applicator for this month's base will be released in January's Lunar event.






New Lunar Shoppe Offers!
This month, we are adding a bunch of decors available universally in all biomes:
| | | | |
| --- | --- | --- | --- |
| Flaming Beads [Arms] | Flaming Beads [Chest] | Flaming Beads [Head] | Flaming Beads [Rear] |
| Lunar Rain | Lunar Wisp | Massive Blue Flame | Massive Purple Flame |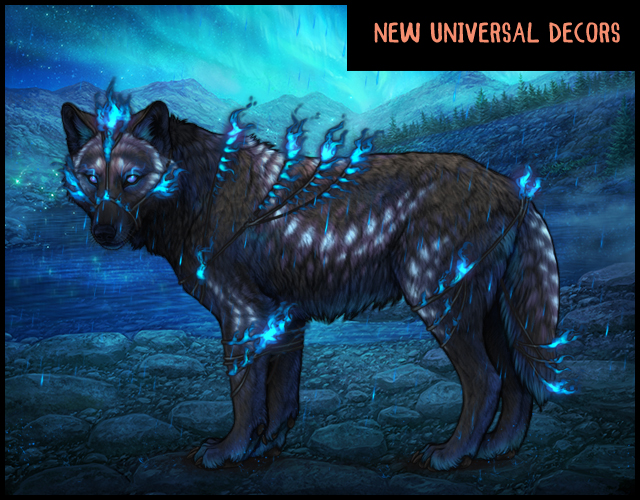 What About Coigreach?
We've seen some concern regarding Coigreach and the Lunar Dreams event.  Coigreach will not be paused during the Lunar event.  Both events will be running in tandem and should not affect each other.  We would like to take a moment to clarify on some points that might be helpful, however!
You can only collect Lunar Essence during Dawn, Day, and Dusk.
You can only explore the Dreamlands during Night.
The majority of Coigreach event encounters can be found during all times of day (Dawn, Day, Dusk, Night).
If you are specifically seeking out cave encounters for Coigreach, these only occur at Night.
Posted 2021-11-18 23:19:49 (

edited

)

Oooh let's gooo

Omg that base <3
Krzno 🐾
#32334


Posted 2021-11-18 23:20:14

Yaaay omg im so happpyyy!!

『𝕸𝖊𝖑𝖆𝖓𝖈𝖍𝖔𝖑𝖎𝖆』
#21424


Posted 2021-11-18 23:20:20

Oh shit 🌙

hexada
#5040


Posted 2021-11-18 23:20:32

Yay new news!!

Poseidon
#16939


Posted 2021-11-18 23:20:56

OMG yay! Awesome, I was wondering how this would work.

RakdosSynyster
#19021


Posted 2021-11-18 23:20:58

Soo pretty! love the new decorations!

PixelWolfDog
#7479


Posted 2021-11-18 23:21:04

sweeet l'm happy :3

Wingstarfox
#3065


Posted 2021-11-18 23:21:24

wowowowow incredible!
💫Venus💫
#24895